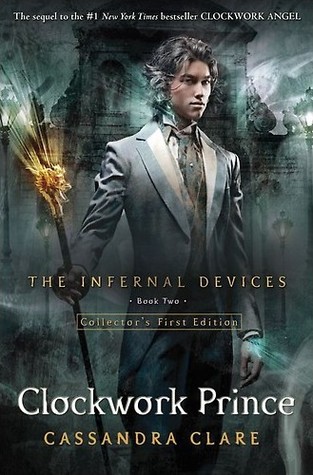 Clockwork Prince (The Infernal Devices #2) by Cassandra Clare
5 stars
"If no one cares for you at all, do you even really exist?"
This series just keeps getting better and better!
Clockwork Prince continues from where Clockwork Angel left off. The Shadowhunters are looking for the Magister, Charlotte has been given 2 weeks to find him under threat of losing leadership of the Institute. Tessa and Jem have grown closer since Will spurned Tessa (not that Jem knows this). There are spies in the halls of the Institute, and Will, Tessa and Jem must find out everything they can about the life of the mundane Mortmain.
I thought that this was a beautiful middle book. The story was developed and furthered, but had no sense of stalling to make a trilogy. Tessa continues to struggle with her identity, because as no one knows what she is, she doesn't quote know who that makes her. Tessa must learn to define herself despite these things. She must also choose between her brother and the Shadowhunters. Will's mysterious past comes to the forefront, and Jem struggles with his afflictions.
"I have wanted to do this every moment of every hour of every day that I have been with you since the day I met you."
****WARNING  SPOILERS AHEAD *** DO NOT READ IF YOU DON'T WANT TO BE SPOILERED!!!!!!!!!!!!****
As I don't want to give too much away, so I'm just going to list my favorite parts:
– "Astriola. That IS demon pox. You had evidence that demon pox existed and you didnt mention it to me! Et tu, Brute!' He rolled up the paper and hit Jem over the head with it."
-When Magnus leaves Camille and kisses Will
-That makeout scene, YOU KNOW WHICH ONE.
– "Ah," said a voice from the doorway, "having your annual 'everyone thinks Will is a lunatic' meeting, are you?
"It's biannual," said Jem. "And no, this is not that meeting."
-Will and Tessa in the drawing room way to rip my heart out of my chest there Ms. Clare!!!!
Also, many people have said that this series is just a rehashing of her other one, The Mortal Instruments. It's been many years since I've read them, so it's really not like that to me. But even if it was, I honestly don't care because I read these books for the characters. These books are very character driven and I care about these guys more than the ones in TMI (sorry, it's the harsh truth). So if you don't care about technicalities and you like character development, these are the books for you.
***note, I didn't cast Will because I still can't find what I picture him like, maybe someday but like all dream men, I'm beginning to believe he doesn't exist :((
*** 2nd note, this was me and a fellow reviewer friend while I was reading: