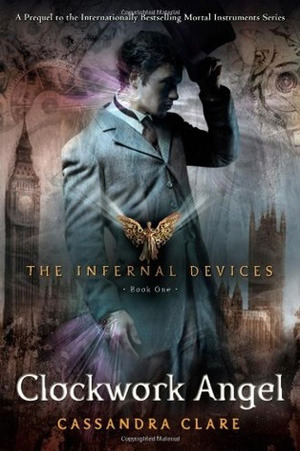 Clockwork Angel (The Infernal Devices #1) by Cassandra Clare
First rating: 4 stars.
Reread rating: 4 stars again
"This is what is real, and the life I had before was a dream."
"That is correct. And now is the time to wake up"
Cassandra Clare is and always will be a fantastic writer when it comes to worldbuilding and sucking the reader into a book.
Tessa, an American teenage girl in 1878 has recently suffered the loss of her Aunt when her brother sends her a ticket to travel from New York to London. Upon arrival, Tessa is abducted by a sinister duo who call themselves The Dark Sisters, and discovers a shocking secret she didn't know about herself. Very soon she happens upon the world of the shadowhunters and must uncover the identity of a man who calls himself The Magister.
For some reason this book took me so damn long to read the second time. I remember reading this book when it was released and blowing through it much faster. I still liked it as much as I read it the first time, and now the other books are released so I can finally move on to reading them for the first time.
I loved the setting of Victorian London, I felt Cassandra Clare did a really good job of taking it and making it her own instead of being held down by it's restrictions, so bravo Ms. Clare!

At the moment I am a member of Team Will because I love a tortured bad boy. He's still a giant mystery at this point so I look forward to reading more about him in the next installment. I will say with this reread I noticed that Tessa had a much clearer connection with Jem in this book than with Will, probably because he actually made the time to get to know her. He's a sweet guy, but so far I will not easily be convinced to join Team Jem.
So overall I really enjoyed this one, but I am definitely more excited about reading the final 2 as I never got to them.
By the way this was a kind of buddy read with Lady Vigialate (Feifei) and I had fun. She devoured all three books before I even hit page 100 with this one, but I totally understand the lure 😛 Read her review on Goodreads for the entire series here.