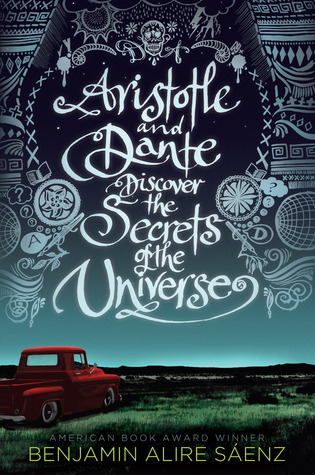 Aristotle and Dante Discover the Secrets of the Universe by Benjamin Alire Saenz
5 stars!!!!!
"Sometimes pain was like a storm that came out of nowhere. The clearest summer could end in a downpour. Could end in lightning and thunder."
This was beautiful.
The year is 1987. Ari is a loner, he keeps to himself and prefers it that way. One day, at the age of 15, Ari ventures to the public pool where he loves to float. There, he meets Dante who offers to teach him how to swim. From then on the two are best buds, inseparable for the entire summer. Sketching, reading, talking, inventing new games, and watching the stars.
For his birthday Ari gets a 1957 Chevy truck.
He uses it to bring his friends to the desert to look at the night sky.
Mostly he brings Dante out there where they talk.
"To be careful with people and with words was a rare and beautiful thing."
The writing style was simple, but I believe this is actually meant for a fairly young age group. Didn't matter to me because despite being simply written, it was well written. And the author sucked me in from the first page and didn't let me go until the last. This was such a beautiful story and even a few days later I'm still thinking about it.
"Love was always something heavy for me. Something I had to carry."
I definitely had a hard time pinning down Ari's sexuality. Was he straight? Was he gay? Was he lying to himself about either things? Well done by the author as it had me guessing until the very end.
"I had a feeling there was something wrong with me. I guess I was a mystery even to myself."
When it came to Ari's rage issues I was way off the mark on the reason. I really believed that his rage came from the loss of his older brother in his life and the fact that his parents wouldn't talk about Bernardo. In an oblivious moment on my end, I didn't at all realize that Ari's rage came from his relationship with Dante. Once I realized the entire truth behind it, it totally made sense based on his behavior where the issues came from.
I also really wish the author had given us a scene where Ari tries to get in touch with his brother. That was one of my favorite parts of the book, the brother mystery and I wish the author had followed through on it until the end. Given some more answers than what he already gave.
Overall this is one of my favorite teen reads this year. I felt this book was so very unique and we need more like them in the teen genre. It was a book primarily about identity and growing into the person you were meant to be. Cultural identity, age identity, sexual identity, it's all there. And it was all masterfully done. I have a giant literary crush on the author now.
"How could I have ever been ashamed of loving Dante Quintana?"
Buddy read with the lovely Natasha ♕  on Goodreads, who was amazing because the time zone thing for us was killer and she waited for me to get my crap together to do this buddy read. Thanks girlie!