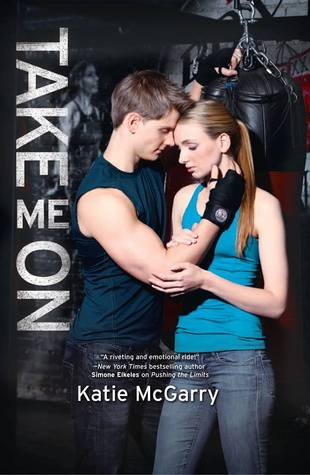 Take Me On (Pushing the Limits #4) by Katie McGarry
4 Fighting Stars
"Don't think of it as falling. Think of it as jumping- with me."
"How is jumping better?"
"Falling happens. Jumping you choose."
Haley is a fighter. At least, she was. Lately she hasn't gone anywhere near the ring and hasn't been in a gym in over six months. Plus, everything with her family is going to hell. After picking up her father's meds, she gets jumped on the way home, and an unlikely person comes to her aid.
West Young has just been expelled from his private school for fighting. When driving home one night he almost hits a girl with his car when she stumbles into the middle of the road. Realizing she's being mugged, West does his best to help her, and gets his ass kicked in return.
Both Haley and West are thrown together due to uncontrollable circumstances, and it turns out that the bad boy rich kid and the former fighter on the wrong side of the tracks can understand each other better than anyone else.
"…this sort of feels like green."
"This is me being blue. Don't worry – you're still yellow."
I really enjoyed this addition to this series. When I had found out it was about Rachel's jerk brother, I had my doubts. But it was great to get West's side of the story about the Young family. Dear God they were even more messed up than I thought they were in book three.
Haley was a wonderful heroine, she dealt with difficult decisions every freaking day and it's kind of a miracle that she was able to keep herself together for as long as she did.
A great young adult contemporary novel, I highly recommend anyone reading this series. Ignore the awful damn cover and read this book!