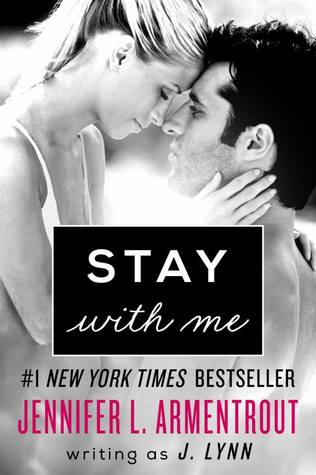 Stay With Me (Wait For You #3) by J. Lynn
5 Staying Stars!
I love J. Lynn. I love Jennifer L. Armentrout. Doesn't matter what name she's writing under, I almost always love her books. Stay With Me is no exception.
Calla has a problem. She needs to finish her final year of college to obtain her nursing degree, and everything was going along fine. Until her mom cleaned out her college fund. And then took out over $100,000 worth of credit card debt in her name. Yikes!
Calla returns home to the town and bar she thought she'd never see again, and there she meets Jax. Jax is the sexy bartender working at her mother's bar, Mona's, and he's interested in Calla. Way interested. Together, the two of them search for Calla's mom who has gone missing, and along the way, find a connection in each other.
I thoroughly enjoyed reading this book. I did a giant happy dance when I got home from work and the Amazon package was sitting there with this puppy inside.
I started reading immediately and didn't put this one down for the next 24 hours or so. Why 24 hours? Well I have to work some time people! That and this book was surprisingly long. Almost 450 pages of awesomeness!
Calla is a heroine that I adore. Everything she's been through has caused her to cut herself off from life and people, in an effort to protect herself. I found her to be so brave with all of the trials and tribulations she went up against in this book, and holy shit did she have more than a plateful in this book. It was almost disturbing how much the author liked to kick Calla when she was down. Enough already! We get it, shitty things happen to Calla. Back off JLA!
Jax…. oh Jax. ***giant sigh***.
This was a man to bring home to mom. (Well not Calla's mom, but you know). He reminded me a bit of Kristen Ashley's alpha males. He didn't let anyone push him around, and more importantly he didn't let anyone push Calla around and stood up for her time and time again. Yes, he messed up a little along the way, but those were understandable misunderstandings (does that even make sense?).
The first book will probably always be my favorite, so that's still the best one in the series. But Stay With Me runs a close 2nd place, because I'm still recovering from the whiplash that was Be With Me.
My only complaint was sometimes JLA got a little too hip with her descriptions, if that's possible. It no longer became cute to read things that didn't even make sense. Like "Holy granola bar". Um, what? Where the F*** did that come from? It's cute a couple of times, but it happened quite a bit. Too much, but that's just my opinion.
Can we have a Reece and Roxy story please?