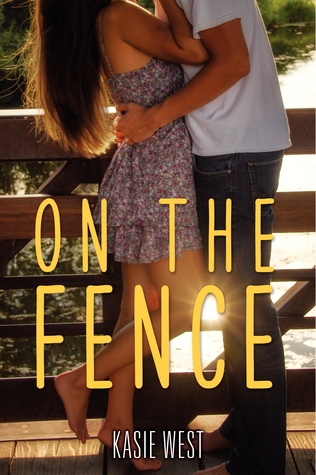 On the Fence by Kasie West
3 teen stars
"Sometimes we expect more than people are capable of giving at the moment."
On the Fence is about a girl named Charlie, who grew up motherless and as the only girl in a family with three boys. Charlie's the true tomboy, only interested in sports, no interest at all in girly things. When she wracks up some fines in speeding tickets her dad makes an ultimatum, she has to get a job and pay for the tickets herself.
The only place Charlie ends up being able to get a job at is a clothing store. And the owner insists that Charlie wears the clothes in the store (as we would expect most clothing stores to). It's here that Charlie learns about fashion, then makeup, and then ultimately it leads to some small town modeling.
Charlie finds herself being split into two people, tomboy Charlie, and girly Charlie, and she has a hard time finding a way to balance both. The new job also takes away time from her running schedule so she finds herself not being able to sleep at night. Insert Braden, her next door neighbor who is friends with her brother. Braden also has trouble sleeping at night, and the two find themselves talking about everything and anything, over the fence that separates their yards.
I thought this was a very cute YA novel. It's more of a coming of age book than a romance. The plot centers around Charlie and her struggle with her identity as well as the death of her mother at a young age. I feel that this is a great book for teen girls ages 13-17, but not really for anyone older than that. What I'm saying friends, is that I don't think adults will gain much from this book.
The romance fell a bit flat for me, Braden was kind of boring and not really there throughout most of the book. The connection between the two and the development of the romance between them felt very sudden. I could see them much better as friends than lovers.
Also, and my friend Lola pointed this out as well, the cover has the girl in a dress. Do the publishers ever read the book? Despite Charlie discovering her girly side, she refused to wear a dress. I'm just sayin'. (Yes the cover dress is cute, but it doesn't fit the book).
"We can't let boys define how we feel about ourselves. You have to know who you are before you should let any boy worth anything in."