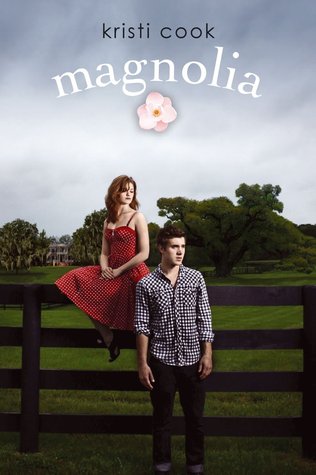 Magnolia by Kristi Cook
3.75 stars!
Magnolia is about Jemma Cafferty, a teenage girl who lives in Mississippi. Her family has always been best friends with the Marsden's next door, leading back to the War. You know, The Civil War. The two families are constantly pressuring Jemma and Ryder Marsden to get married and unite the families once and for all, the only problem being Jemma and Ryder can't stand each other.
When Jemma's parents go out of town for a family emergency, Jemma is left at home alone when a storm starts brewing. Both families insist that Ryder and Jemma remain together through the storm, and it's then that Jemma and Ryder are able to hash out their differences and clear the air.
I thought this was a wonderful character driven novel. Yes it had the generic "I hate you but I love you" plot, but the author took this and expanded upon it. The book deals mostly with Jemma's struggle to do what she wants with her life and not to live out her parents' expectations, the same exact thing Ryder was dealing with at home.
Ryder was an amazing book boyfriend, he took care of Jemma throughout the storm, despite his own fears. He also pushed Jemma to fight for herself, and was one of the few people who understood what she was going through.
I loved the setting of this book as well, the imagery was amazing.

Great teen read, I would be happy to read a contemporary book by this author in the future.
PS! Forgot to mention that I loved how this book acted as the opposite to a Romeo and Juliet storyline, very cute!