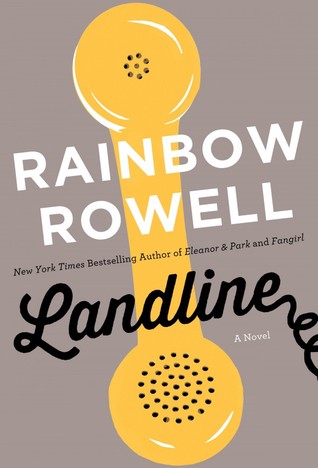 Landline by Rainbow Rowell
3.75 to 4 stars!
"I love you more than I hate everything else."
Landline is the story of Georgie, a sitcom television writer in LA on the verge of getting her own tv series to write, along with her best friend Seth. When Georgie tells her husband Neal that she can't join him and the family in Omaha for Christmas, he does the unexpected and leaves with their kids without her.
"Nobody's lives just fit together. Fitting together is something you work at. It's something you make happen – because you love each other."
After Neal leaves, Georgie goes to stay with her mother. In her old room, Georgie makes a call to Neal in Omaha, and discovers that she is talking to Neal in 1998.
"Neal didn't take Georgie's breath away. Maybe the opposite. But that was okay–that was really good, actually, to be near someone who filled your lungs with air."
After realizing that she isn't crazy, Georgie continues to speak to 1998 Neal, to find out where they went wrong. Georgie begins to wonder, would their lives be better if they hadn't gotten married?
"Wasn't that the point of life? To find someone to share it with?"
I liked this book a lot more than I liked Attachments. At this point, I'm pretty sure that Fangirl will be my favorite Rowell book, but Landline is her best adult fiction book to date. I think if I had read this before the book After I Do, I would have liked it more, because they are pretty similar. Landline just has the added aspect of the magic realism (time travel via phone).
"How does anyone ever know whether love is enough? It's an idiotic question. Like, if you fall in love, if you're that lucky, who are you to even ask whether it's enough to make you happy?"
Overall it's a good read, maybe even a good beach read. Chick-lit lovers will enjoy this book.