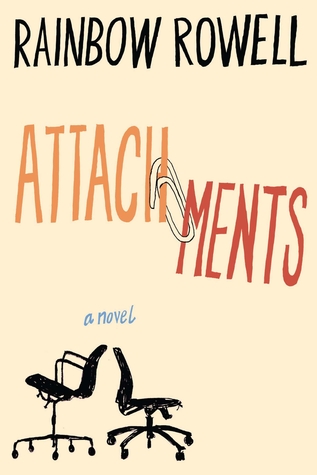 Attachments by Rainbow Rowell
3 e-mail snooping stars
"Every woman wants a man who'll fall in love with her soul as well as her body."
Attachments is the chick-lit story about Lincoln, the IT guy whose job it is to read other peoples' email at a newspaper. Unhappy and unsatisfied at this job, Lincoln begins to read the emails of Beth and Jennifer, two writers upstairs, because they have the most interesting things to say. Over time Lincoln realizes he's done the stupid thing, fallen in love with Beth over her emails.
"There are moments when you can't believe something wonderful is happening. And there are moments when your entire consciousness is filled with knowing absolutely that something wonderful is happening."
Very cute story, I just didn't love this one like I loved Rowell's YA masterpiece that is Fangirl. This book moved really slowly, and while it did pick up near the end, we didn't get THAT MUCH of an ending. The book was all buildup and very, very small pay off.
"I'd know you in the dark. From a thousand miles away. There's nothing you could become that I haven't already fallen in love with."
One of the biggest issues I had was the description of Lincoln. At first she said he looked like the Brawny guy, so I was thinking this:

Then much later in the book he's described as looking like Jason Bateman:

At this point I was like this:

Plus, we spend most of the book reading about how "lost" Lincoln is and how he needs to get his life together. By the end, in order to get his life together, he gets a new job, goes back to school (which I saw as reverting, because he had gone to school for 10 years because he didn't know what to do), moves out, and dates a girl. All things he easily could have done at the beginning of the book.
I did enjoy the shoutouts to the late 90's, as that's when this book is placed, but overall this book was fairly boring, and was saved mostly by Rowell's sense of humor.
If you are considering reading Rainbow's books, I would start with Fangirl. That's the best of the two I have read by her so far.
"I didn't know love could leave the lights on all the time."