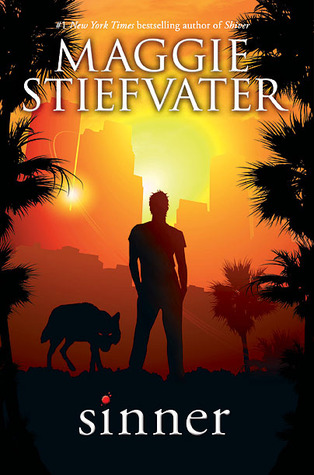 Sinner (The Wolves of Mercy Falls #3.5) by Maggie Stiefvater
4.5 Sinner stars
"I came back for you, Isabel."
Sinner is the follow up to Maggie Stiefvater's Wolves of Mercy Falls trilogy, and in order to understand this book completely, you must read those three amazing books first.
After the events of Forever, Isabel has moved from Minnesota to Los Angeles with her mother, moved in with her cousin and is pursuing a career in medicine. Cole, the haunted musician turned werewolf, has followed her back to the city that played a part in his downfall. Both Isabel and Cole are trying to move on from their past and become better versions of themselves, but are they standing in their own way?
"Did it matter if you changed if no one believed it?"
This book was eloquently written and pretty much everything I wanted in a follow up book about my favorite characters. In this book Isabel is still trying to recover from the death of her brother and the destruction of her family. Isabel is constantly hiding behind her anger and harsh words, but she's only doing this to hide the fact that she feels too much. Isabel also fears that she'll fall in love with Cole again, and that when she did, he would break her.
"I had been taken apart and put back together again, and this version of me was unbreakable."
Cole finds himself reverting back into the life of a rockstar, starring in a unique new reality show and recording a new album. In place of drugs, Cole has used transforming into the wolf as a way to stop feeling, heroine for werewolfism. Isabel is the only person who understands Cole for who he really is. Cole doesn't need to hide behind his persona when he's around her, he can be his true self. Their connection comes from the fact that they both see each other for who they really are, and not what other people see them as.
"Why did you come back?"
"I came back because I had to. Because there was nothing wrong in the world except that I was getting older in it."
Cole swears to Isabel that he came to LA just for her, but Isabel is not a fan of seeing Cole fall back into his old life. For Cole, coming back to LA means facing his demons, and the city can either help him move on, or it could take away the last part of his soul.
"I knew just how it felt when your worst fear was that you would be yourself."
Los Angeles is a huge theme in this book, signifying rebirth and redemption for both of the main characters. I had fun reading this, being a resident of the greater Los Angeles area, because I could tell that the author either did her research, or has spent a lot of time in Los Angeles and has a key appreciation of it. Los Angeles was not glorified, and it was not criticized, it just was in this book.
The romantic plot was actually the majority of this book. It's been a while since I read the trilogy before it, but I didn't remember that much of a focus on romance. Not that I minded, as I said Cole and Isabel are my favorite, so it was a nice change to see Cole just got for it and to try and get Isabel. His determination and devotion to her showed how much he had really changed from his past life.
"Tell me you'll see me tomorrow."
"I'll see you tomorrow."
"Tell me you'll see me the next day. And the day after that. And the day after that."
I felt that the werewolf plot was no longer a priority in this book, at least not as much as it was in the other books. For Sam and Grace, the werewolf issue was about not being able to escape their circumstances. For Cole, it's his escape from his human self. For Isabel, the wolf is a reminder of everything she's lost and everything she hasn't been able to move past. In fiction, a werewolf is never just a wolf, it's always a metaphor that reflects the character's true selves.
Overall, I am so freaking glad that Maggie wrote this book and gave the readers an ending they could cherish. Sinner is a wonderful story of redemption and love, and how we need to move past what we once were to become who we really are.
My casting: