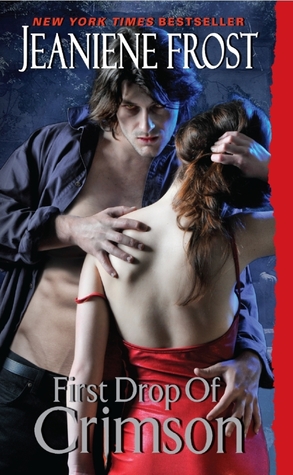 First Drop of Crimson by Jeaniene Frost
A spinoff from the Night Huntress series, this is the story of Denise, Cat's friend, and Spade, Bones' friend. When Denise watches her cousin murdered right in front of her by a supernatural being, she tries to get in contact with her friends Cat and Bones for help, but they are unreachable taking time off in New Zealand. Instead, Bones' old vampire friend Spade decides to look into Denise's dilemma, but isn't quick enough when the demon comes back and brands Denise with marks and infusing her with his essence. Bottom line? Denise must find a long lost relative and return him to the demon, or he'll kill her entire family.
I liked this book, Denise and Spade both had such a tragic past and it was nice to see how their relationship developed with all of their emotional obstacles. Some of Frost's humor came through in this book, but the loss of the banter between Cat and Bones was too noticeable. So an enjoyable read, but not my favorite in these two series.